I obtained my medical degree the University of New South Wales, graduating in 1989. I have trained at St Vincent's, St George and Prince of Wales hospitals in Sydney. I obtained my specialist cardiologist qualifications in 2003.
In addition, I have obtained subspecialty cardiologist qualifications in the non-invasive cardiac imaging subspecialty of cardiology. I completed a Clinical Research Fellowship and Master of Philosophy in Cardiac Imaging at University of Queensland / Princess Alexandra Hospital / The Wesley Hospital in Brisbane.
I have several scientific publications including in the prestigious Journal of the American College of Cardiology. I have presented my research locally, at the Cardiac Society of Australia and New Zealand, and internationally at the American Heart Association and American College of Cardiology.
I have also completed a Clinical Echocardiology Fellowship at Hearts 1st Laboratory at Greenslopes Private Hospital in Brisbane and continued to work at the same site as a consultant cardiologist. I have also worked as a consultant cardiologist at Echo Services laboratory in Perth and at Ryde Hospital in Sydney.
I trained in the exciting new area of CT coronary angiography through CVCTA education with Dr. Tony DeFrance, Clinical Associate Professor in Cardiology at Stanford University School of Medicine. I am now a registered CT Coronary Angiogram Specialist with the Conjoint Committee for the Recognition of Training in CT Coronary Angiography.
In addition to working at Heartmed my Cardiology practice, in Wahroonga, I also work at nearby Sydney Adventist Hospital, PRP Diagnostic Imaging and my Central Coast/Lake Macquarie satellite practice . I look forward to continuing to meet the challenges in cardiology in the 21st century as they continue to unfold.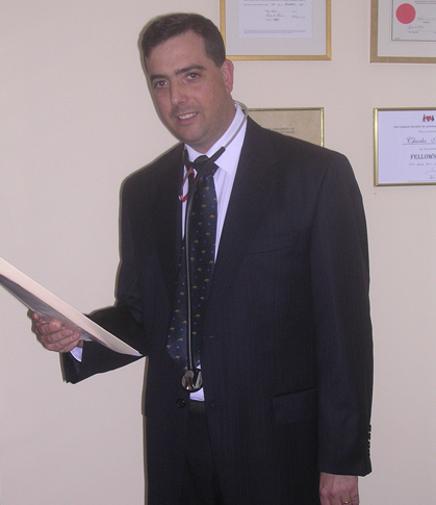 Dr Charles Nelson MB BS, MPhil, FRACP, FCSANZ
Registered CT Coronary Angiogram Specialist
Echocardiology Fellowship
Cardiologist
Ph: 02 9487 6377 or 02 9487 7042, Fax: 02 9487 6577, Email: info@heartmed.com.au